Nationality: Australian
Guitar type: Lattice
John Price is of English origin and emigrated to Australia. After a training in cabinetmaking, it is in self-taught that he discovered the violin making. With a long experience, John Price has designed over the years of exceptional classical guitars by the quality of the woods and the modernity of their constructions.
His philosophy is to focus all his research on the vibratory qualities of the table so that it offers exceptional volume, a wide range of sound and nuances galore.
These classic guitars are remarkable and are played by many concert guitarists including : Jorge Morel, Ricardo Cobo, Muriel Anderson,  Krzysztof Pelech,  Rene Izquierdo, Elina Chekan,  Jorge Caballero, Ricardo Iznaola, Ignacio Barcia, Jason Behr,  Anthony Bez, Candice Mowbray mais aussi George Benson, Andy Summers (the Police).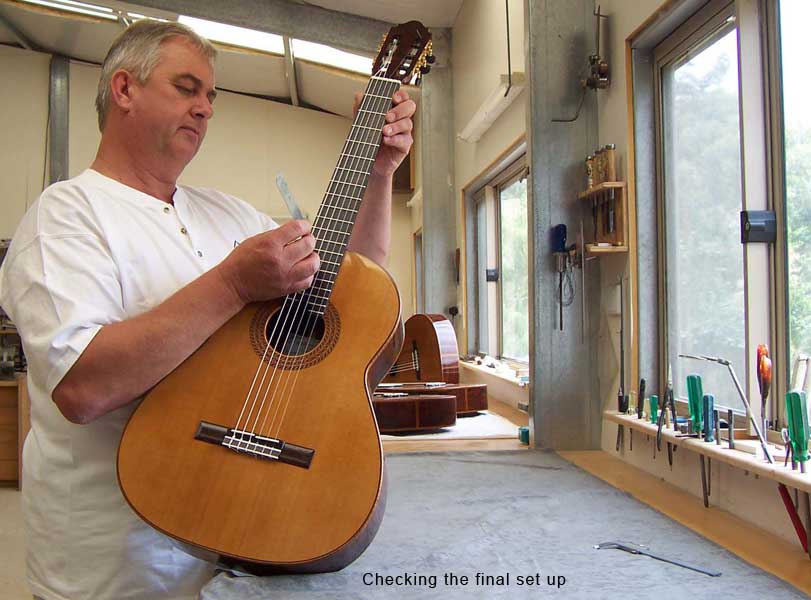 To learn more about John, here is the translation of an interview with luthier John Price:
At the age of 8, I discovered the classical guitar through one of these horrible metal string instruments decorated with a cowboy .. By dint of playing with this poor instrument I ended up breaking all strings and steal my father's fishing line .. that's how it all started and since that day I have not stopped putting ropes … my parents left the Midlands for Australia in the 70's, and very quickly I started in the cabinet making furniture by working with all kinds of gasoline and many machines.
In 1992, my father offered me a book how to build his own Stanley Doubtfire's classic guitar. it was an illumination and decided to build my first guitar. Young father with 2 young children, I spent my weekend to inspire me great masters Jose Romanillos, Ignacio Fleta and Robert Bouchet.
Encouraged by Tommy Emmanuel met during a concert, I continued and discovered in 1995 the latest technical innovations of the Australian guitar school using a lattice dam and modern materials thanks to Eugene Philip.
From an empirical point of view, I developed my own guitars and in 1996, thanks to the support of Tony Acosta of Luthier Music in New York, my guitars began to be played by many concert players.
I have always had new ideas and I test them carefully so as not to lose the essence of my lattice guitars.
Quelques guitares classiques de concert du luthier john price