Yannick Lopes is one of our friends and also one of the most acclaimed French guitarists. He came to visit us and tried our latest Double-top from Michel Belair from Canada.
For more information on the Michel Belair double-to available:
For more information on the Michel Belair double-top guitar, just click on the link..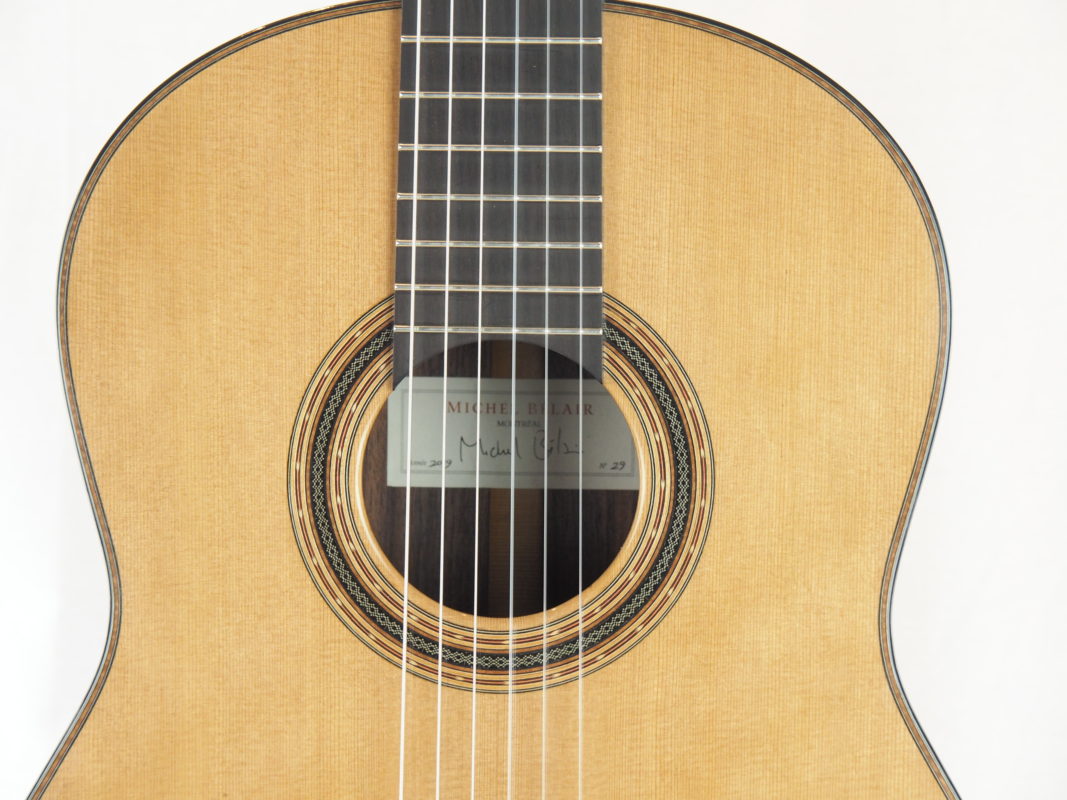 Here are some information on Yannick Lopes :
Yannick Lopes is one of today's most talented classical guitarists. French musician with Portuguese origin, his early vocation makes him say at the age of 10 : "I want to be a concert guitarist". Plural musician, as he defines himself, he is at the same time a concert guitarist, virtuoso accordionist, improviser, composer and ethnomusicologist. The music is the profound expression of his personality, linked to a double culture, and even, if we look at his career, to multiple cultures. At 18 years old, he was first named to the National Superior Conservatory of Music in Paris (CNSMDP) in the class of Roland Dyens where his eclecticism took on its full dimension. At 21, he received several first prizes in classical guitar, generative improvisation and his diploma of higher education in CNSMDP. He moved to Sweden, to improve his skills with Göran Sollscher and Günnar Spjult. He also attended accordion classes with Lars Holm, who invited him to the international accordion festival in Stockholm. At 24, he obtained a master's degree in ethnomusicology at the Paris-Sorbonne University for his work on poetic jousting in Portugal. He is involved in many projects of contemporary creations for theater, dance, cinema with the ensemble 2E2M, Ars Nova, Ircam, Péniche Opera, among others, and is invited by several renowned festivals such as: Agora Festival at IRCAM (Institute of Research and Acoustic Coordination / Music), Rosalia Chladek International Dance Festival in Paris, Musique en Graves Festival in Bordeaux (Honorary President Mstislav Rostropovich), Avignon festival (Drama Company of Poitiers), Ivan Malanin festival in Novosibirsk, Russia and Safed klezmer festival in Israel. Laureate of many international competitions, he has appeared both as a soloist and with these various ensembles in the Middle East, Russia, North America, Central and Occidental Europe. He has recorded more than twenty records to date. The Little Library Concerts has been created by www.concert-classical-guitar.com with the objective to offer a different way to discover of our instruments by having amazing guitarists playing wonderful pieces on these guitars.
The Little Library Concerts has been created by www.concert-classical-guitar.com with the objective to offer a different way to discover of our instruments by having amazing guitarists playing wonderful pieces on these guitars. The finest concert guitars are available at : www.guitare-classique-concert.fr www.concert-classical-guitar.com www.klassische-meistergitarren.de www.chitarra-classica-concerto.it www.guitarra-clasica-concierto.es For any additional information: contact andre@guitare-classique-concert.fr

Any question contact andre@guitare-classique-concert.fr